Carla Beebe Comey, M.Ed.
Antioch University faculty. Served as a Waldorf teacher, pedagogical eurythmist, mentor, and pedagogical administrator for twenty-six years prior to joining the Waldorf Teacher Education Program at Antioch.
Karine Munk Finser, M.Ed.
Director of Kairos Institute at the Center for Anthroposophy. Director of Transdisciplinary Studies of Healing Education, Antioch University New England. Art therapist and painter.
Born on the Baltic island of Bornholm, Denmark, Karine Munk Finser later lived in Belgium, France, Switzerland, and England before finding her home in the United States. She is an art therapist with a diploma from the Medical Section, Goetheanum. Karine was the founding director of CfA's Renewal Courses for 21 years while serving as a faculty member at Antioch University New England. In 2014, she launched Antioch's Transdisciplinary Studies in Healing Education program (TSHE), and in 2022 inaugurated CfA's Kairos Institute.
Torin Finser, Ph.D.
Director of Building Bridges and Waldorf Leadership Development programs, founding trustee of CfA, Director of Waldorf Programs at Antioch University New England, post doctoral certification in Management Development, Harvard, author of 14 books, including Organizational Integrity and Leadership Development.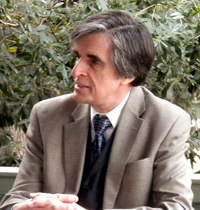 Douglas Gerwin, Ph.D.
Himself a Waldorf graduate, Douglas Gerwin, Ph.D., is Executive Director of the Center for Anthroposophy (CfA). He has taught history, literature, German, music, and life science at the university and Waldorf high school levels for over 40 years and helped prepare high school educators to teach these subjects for over a quarter-century. He is also an adjunct faculty member of the Waldorf Teacher Education Program at Antioch University New England.
In 1996, he founded CfA's Waldorf High School Teacher Education Program (WHiSTEP), a graduate-level training specifically for high school teachers, which he chaired for 27 years. During that time, he also served as advisor or mentor to well over three-quarters of the Waldorf high schools in North America and helped train Waldorf teachers on four continents.
Editor of ten books and author of numerous articles on Waldorf education and anthroposophy, Dr. Gerwin is also Executive Director of the Research Institute for Waldorf Education (RIWE). A founding member of the Leadership Council in the Association of Waldorf Schools of North America (AWSNA), he now sits on the Pedagogical Section Council of the Anthroposophical Society in America. In addition, for the past decade he was a member of the Hague Circle, an international leadership group of some 45 Waldorf teachers from around the world.
Alison Henry, M.Ed.
A graduate of the AUNE Waldorf Teacher Education Program, Alison has found her home in Keene, New Hampshire, just a short walk from Monadnock Waldorf School where she recently took a class through the grades.
She now divides her time between doctoral studies, part-time class teaching, and teacher development. She finds inspiration in the lively dance between these roles.
Jan Lyndes, M.Ed.
Fluent in American Sign Language, Jan taught in Deaf Education for 16 years prior to becoming a Waldorf Teacher. Currently, she is in her eighth year of Spacial Dynamics® Training as a Certified Trainer. Jan has been a Waldorf teacher/Movement Education teacher since 2008. She has taught at Antioch University, Monadnock Waldorf School, Kroka Expeditions, Austine School for the Deaf, and the Garland School. Jan is eager to engage in the post COVID 19 future of education. For her, this will include teaching and guiding a new Waldorf Charter school in its development, as well as the pursuit of her Doctorate of Education at Antioch University
Anna Scalera, M.Ed
Anna Scalera, M.Ed., teaches Drawing as part of the Antioch University New England (AUNE) Waldorf teacher education program. Anna is a 2009 AUNE graduate. During the academic school year Anna works as a Waldorf class teacher in a homeschool group in Massachusetts. From 2009-2014 she taught fourth through eighth graders at the Waldorf School at Moraine Farm in Beverly, MA. In addition to her interest and background in the visual arts, Anna advocates for bicycling and environmental protection. She holds a Bachelor of Science in Environmental Conservation from the University of New Hampshire. Anna resides in Marblehead, MA with her husband and two sons.
Heather Scott, M.A.
Currently a high school Humanities teacher at The Waldorf School of San Diego (WSSD).  Her interest in African-American culture and literature has been decades-long, especially attuned to Black women writers.  She is passionate about supporting anti-racism through a grounding in history and biography. Heather was raised in New Hampshire and earned her Waldorf Teaching Certificate from Antioch University in 2009.  Her BA is from Sarah Lawrence College; she earned an MA from The University of New Hampshire, Durham.
Last year she taught at The Community School for Creative Education (CSCE), a public, Waldorf-inspired charter in Oakland, CA.
Debra Spitulnik, M.Ed.
Debra was a class teacher at the Washington Waldorf School for twenty-one years and received her Goetheanum diploma as a speech artist from Performinternational in 2016. She now combines these two loves, bringing creative speech to the children and faculty of WWS and to teachers and students nationwide; her unique perspective from her years as a class teacher enlivens plays, poetry, and story in grades 1-12. Debbie is also an adjunct instructor teaching speech, drama, storytelling, and curriculum to graduate students at Antioch University New England and the Center for Anthroposophy. Education: Diploma in the arts of Speech and Drama., PerformInternational. M.Ed., Waldorf Education, Antioch University New England. B.S. Elementary and Special Education, Syracuse University
Teresa Thorman M.A.
Teresa Thorman-B.S., Political Science, LMU, CA; California Teaching Credential, CSUDH; Waldorf Teacher Training, Steiner College; MA Human Development, Saint Mary's, MN. Teresa has been a public school teacher, Waldorf class teacher, high school veil painting teacher and currently is a fine arts teacher for Waldorf grades 1-8. Sharing color relationships in painting and drawing to students of all ages is a true joy and Teresa also enjoys nature walks and photography to further explore her passion for color relationships.
Fill out the form and we'll get back to you shortly.

Other ways to connect with us

Stay up to date and read our extensive archive. 
Close to my home in Central Massachusetts, a clustering of maple trees stands tall and naked against a grey winter sky. Beneath the dark and...
Read More
Sign up for our Newsletter!